Lady Gaga – World Tour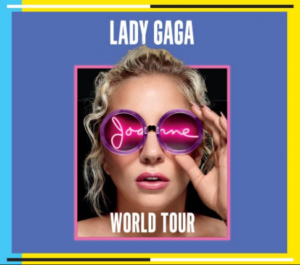 Lady Gaga – World Tour
Fresh off of her triumphant Super Bowl halftime performance, Lady Gaga will embark on a more intimate trek – in arenas and stadiums – for the Joanne World Tour.
The jaunt begins August 1st at Vancouver, British Columbia and winds through North America – including stops at baseball stadiums like San Francisco's AT&T Park (August 13th), Chicago's Wrigley Field (August 25th), New York's Citi Field (August 28th) and Boston's Fenway Park (September 1st) – before heading to Europe for a month.
Gaga returns stateside for the second North American leg on November 5th in Indianapolis, circling the middle and southern stretches of the U.S. before ending December 14th in Salt Lake City.
Tickets for the first leg go on sale February 13th, with the second leg available starting February 20th. Check out Gaga's website for full ticket information.
Directions
The O2, Peninsula Square, London, SE10 0DX.
The O2 is situated on Greenwich Peninsula next to North Greenwich Underground and Bus Station.
Parking
Car Park 1 is used for parking events within The O2 arena, it is approximately 350m from the main entrance at The O2. It is recommended that tickets are pre-booked due to limited availability.
The Peninsula and other areas of Greenwich is a Controlled Parking Zone and there is no parking on the roads surrounding The O2.
Miscellaneous
Opening Hours
The O2 opens at 9am and is open till late. Last admission is at 1am.
Please see your ticket for entry times to individual venues and events.
Food and Beverage
There are over twenty bars and restaurants within The O2 on Entertainment Avenue offering a wide range of food and drink options. The bars and restaurants on Entertainment Avenue are open seven days a week.
There are also food and drink outlets within The O2 arena for those attending an event. Food or drink purchased outside is not permitted to be taken into The O2 arena.
For further info and individual contact details of our bars and restaurants please visit The O2 website at www.theo2.co.uk
Terms and conditions of entry can be found on The O2's website:
http://www.theo2.co.uk/venue/terms-of-entry.html
For all NON-TICKETING enquiries please contact Customer Services at The O2; customerservices@theo2.co.uk, 020 8463 2000 between 10:00 and 18:00 daily.
LATEST NEWS
World
Politics
Business
Sports
Technology
Entertainment
Error
RSS Error: A feed could not be found at http://open.live.bbc.co.uk/weather/feeds/en/2635167/3dayforecast.rss. A feed with an invalid mime type may fall victim to this error, or SimplePie was unable to auto-discover it.. Use force_feed() if you are certain this URL is a real feed.
UPCOMING SPECIAL EVENT