Pandit Ajoy Chakrabarty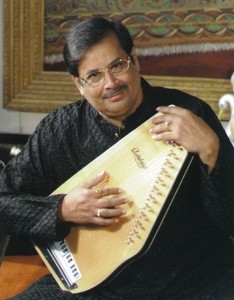 Pandit Ajoy Chakrabarty (born 1952) is an Indian Hindustani classical vocalist. He belongs to the Patiala gharana. He was born in Kolkata, Bengal to Ajit Chakrabarty in a Hindu Brahmin family. They moved to India from his homeland, Bangladesh during the partition and raised two sons in Shyamnagar. His younger brother, Sanjay Chakrabarty is a noted composer and music therapist.
His early gurus include his father Late Ajit Kumar Chakraborty, Pannalal Samanta, Kanaidas Baigari, and later on, Guru Jnan Prakash Ghosh and Ustad Munawar Ali Khan (son of Ustad Bade Ghulam Ali Khan). He has also learned from Ustad Latafat Hussain Khan, Pt. Nibruttibua Sarnaik, Vidushi Hirabai Barodekar, Dr. M. Balamuralikrishna, among others. Because of his extensive training, he is not only a doyen of the Patiala-Kasur style, but can also portray the key features of other major classical gharanas like Delhi, Jaipur, Gwalior, Agra, Kirana and even Carnatic music. Despite such a strictly classical training, Chakrabarty is also renowned for his rendering of lighter genres like Thumri, Tappa, Geet, Bhajan, Keertan, Folk, and Film. He graduated first-class-first both in BA and MA from Rabindra Bharati University in Kolkata, and joined the ITC Sangeet Research Academy in 1977–78 as the first scholar. He then rose to the positions of Gold Medalist Fellow, member of the Expert Committee, and senior Guru.
Pandit Ajoy Chakrabarty is considered one of the vocal legends of Indian classical music. He is notable for imagination and sensitivity to lyrics, coupled with his uncanny sense of rhythm. Recipient of as many as 4 prestigious awards of highest order from the President of India – Padma Shri (2011), Sangeet Natak Akademi (Delhi, 1999–2000), Kumar Gandharva (National Award, 1993) and the Best Male Playback Singer (Bengali Film "Chhandaneer" 1990) – Pandit Ajoy Chakrabarty has received felicitation from both the former and present Chief Ministers of West Bengal. The first Indian vocalist invited by the Pakistan and Chinese governments, Pandit Ajoy Chakrabarty has performed in innumerable concerts and is still participating in all prestigious music conferences and festivals, including Dover Lane, Rabindra Sadan, Kala Mandir, Science City in Kolkata; Sanmukhananda, Nehru Centre, NCPA in Mumbai; Kamani and Sirifort in Delhi; Carnegie and Kenedy Centre in the United States, Royal Albert and Queen Elizabeth in England; Theatre De La Ville in France to name a few. He also was awarded honorary citizenship in New Orleans, after performing with jazz musicians at Preservation Hall, the birthplace of jazz music.
Thus far, Pandit Ajoy Chakrabarty has recorded over 100 albums, mostly published from India, the United States, Canada, UK, and Germany, composed of pure classical numbers including live performances and various other genres – Thumri, Dadra, Bhajan and other devotional songs like Shyamasangeet and many Bengali numbers, including songs of Tagore and Qazi Najrul Islam.
Videos
Pandit Ajoy Chakrabarty